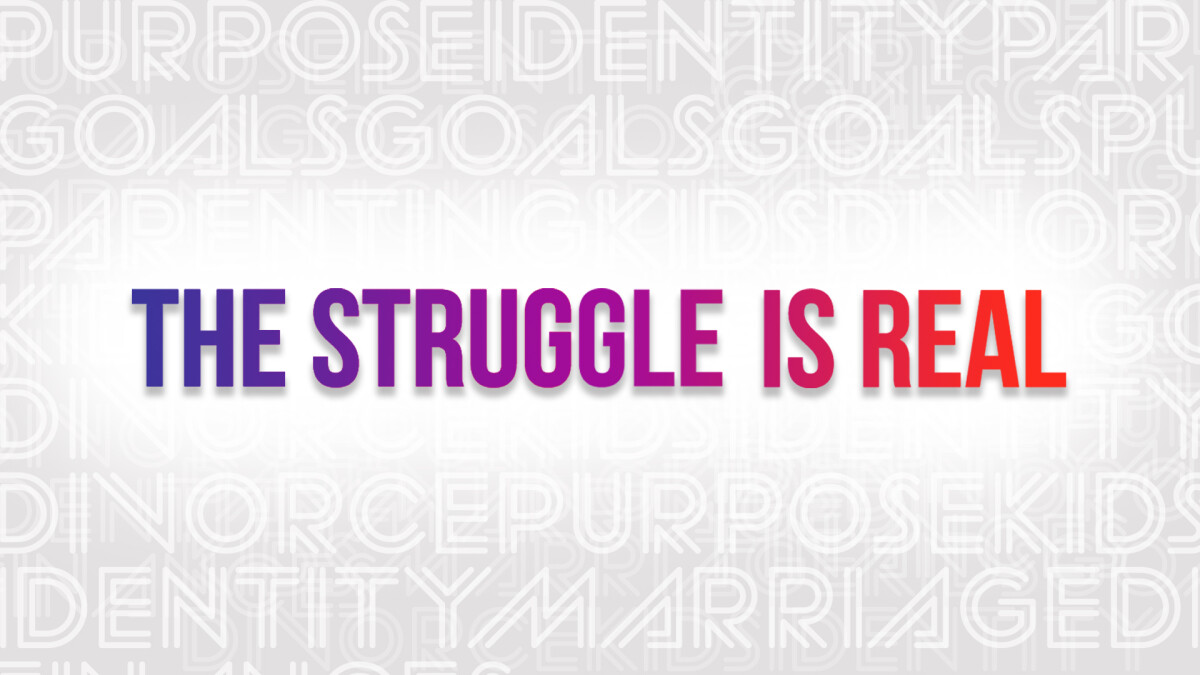 We use the phrase 'the struggle is real' to joke about moments in our lives that are comic relief. But the reality is there are pieces of our lives that are real struggles. In this series, we will look deeper into the issues of identity, marriage, kids, gender, and purpose.
The Struggle is Real starts April 13 & 16.
Resources
Articles
Who Am I? Three Dimensions of Personal Identity
How to Discover Your True Identity: A Simple Experiment
How To Parent Better In This Phase - Starting Now!
Focus On The Family: Parenting Articles
Bible Reading Plan
IDENTITY: A FIVE-DAY READING PLAN ON DISCOVERING WHAT WE REALLY BELIEVE ABOUT OURSELVES (5 DAYS) What we believe about ourselves shapes our identities. Unfortunately, there are a number of false beliefs we are carrying around. Not only do those false beliefs impact how we view ourselves, they also rob us of a more fulfilling life. Read about some common, false beliefs people have about themselves, and the true beliefs that need to replace them.
IDENTITY: WHO ARE YOU? (6 DAYS) In the world, it's easy for us to question our identities and who we are. We try to fit in and be like everyone else, but the truth is – We are not! Who you are is wrapped up in one Person only, and His name is Jesus. As you read through this plan, I pray that you would find your true self – the one that God created you to be.
FINDING YOUR TRUE IDENTITY (4 DAYS) Many of us seek identity in different ways. We spend time wondering or worrying about who we are and what others think. Deep down we long to be valued, loved, respected, and admired. There is only one relationship that shows us our true identity. Join us for the next four days to find where your true identity lies.
The Marriage Course (7 Days) Marriage is designed to be the closest possible relationship of increasing intimacy and growing interdependence. But this is not automatic; we have to keep working at our marriage to stay connected. Adapted from The Marriage Course by Nicky and Sila Lee, this 7-day plan aims to introduce you to tools to build a healthy marriage and strengthen your connection—or to restore your connection if you feel you've lost it.
Strengthen Your Marriage (5 Days) From the day you said "I do," God has been cheering you on in your marriage. Whether you realized it or not, He knew marriage was not something you would arrive at but journey through, and He has been your biggest advocate since. Join Natalie Grant & Charlotte Gambill as they share tools to strengthening your marriage for what God has joined together, let no one separate.
Parenting: Getting It Right (6 Days) This six-day reading plan is based on Andy & Sandra Stanley's Parenting: Getting It Right Bible Study with clips of Andy's teaching from the video series. Find out what the IT is that you want to get right in your parenting.
Parenting (7 Days) "This is not what I signed on for!" Being a parent can be a lot harder than we thought it would be. What does the Bible say about raising our children the way God desires?
Discover Your Purpose (5 Days) In this insightful reading plan, renowned pastor and author Tony Evans walks you through the process of discovering your purpose.
Finding True Purpose (6 Days) At some point we all ask questions about why we were created, what are we supposed to do and what does God want from us. The world usually tries to answer these questions very differently than scripture. God loves you and made you for a very specific reason. Over the next six days learn how to live the abundant life God desires.
Living With Purpose (7 Days) Your life has a purpose—it is to glorify God. There are things that happen in your life that you may not like, but you have to know that they are all there for a reason. The reason is to let God use them for your good, so He can mold you into the image of Jesus, His Son. Come discover your purpose with God through Jesus Christ.
BOOKS
Identity Crisis: Understanding Who I Am in Christ and Why it Matters "Who am I?" This is the most important question you can ask yourself. This basic but foundational question has been asked for centuries. Simply put: Identity impacts who we are, what we believe, and how we live.
Vertical Marriage: The ONE Secret That Will Change Your Marriage For anyone who is married, preparing for marriage, or desperate to save a relationship teetering on the brink of divorce, marriage coaches Dave and Ann Wilson offer hope and strategies gleaned from personal experience and Scripture that really work. Vertical Marriage will give you the insight, applications, and inspiration to transform your marriage into everything you hoped it would be.
The Four Seasons of Marriage: Secrets to a Lasting Marriage Spring, summer, winter, fall. Marriages are perpetually in a state of transition, continually moving from one season to another—perhaps not annually, as in nature, but just as certainly and consistently. Sometimes we find ourselves in winter—discouraged, detached, and dissatisfied; other times, we experience springtime with its openness, hope, and anticipation. On other occasions, we bask in the warmth of summer—comfortable, relaxed, enjoying life. And then comes fall with its uncertainty, negligence, and apprehension. The cycle repeats itself many times throughout the life of a marriage, just as the seasons repeat themselves in nature.
Parenting: Getting It Right (By Andy and Sandra Stanley) Am I getting parenting right? Most parents, at any and every stage, find themselves asking this question.
Whether you're sleep deprived with a colicky newborn or navigating the emotional roller coaster of a teenager, parenting has its ups and downs, its confusion and clarity, its big blowups, and small victories. And no matter our family makeup or our children's personalities, many of us experience anxiety over our children's futures and often fear making a mistake.
Embodied by Preston Sprinkle Preston Sprinkle draws on Scripture, as well as real-life stories of individuals struggling with gender dysphoria, to help you understand the complexities and emotions of this highly relevant topic. This book fills the great need for Christians to speak into the confusing and emotionally charged questions surrounding the transgender conversation.
How and When to Tell Your Kids about Sex by Brenna B. Jones When is the right time to tell your children about sex? And how do you introduce such a sensitive and sometimes awkward topic? Award-winning authors Stan and Brenna Jones are here to equip you with the strategies, tools, and insights for age-appropriate discussions with your children.
GROUPS
Marriage Conversations

When | Wednesdays, April 26 - May 24 | 6:30 - 8p or Sundays, April 30 - May 28 | 9 - 10a

Where | Greenfield Campus
Marriage Conversations is short term group focused on giving you tools for communication, conflict resolution, and other challenges we face in marriage. This 5-week group will be helpful regardless of what stage you are in as a couple.

VIDEOS
Focus on The Family: Establishing Good Communication In Your Marriage Part 1 and Part 2
PODCAST
After 46 years of Marriage, What Would You Tell Your Newlywed Self? | Interview with Peter & Colleen Kraker
Expectations in Marriage & Other Relationships | Interview with John & Gaylene Davis
How Do I Help My Partner through a Mental Health Challenge? | Interview with Amber Wirth
How to Help Common Relationship Challenges | Interview with Tyler Volkers
Should I Let My Kids Watch That? | Interview with Amanda Zins & Victor Vilar
How To Help Your Kids Read the Bible | Interview with Victor Vilar
What Your Kids Wish You Knew | Interview with Shelby Bierwagen
How to Help Your Kids' & Students' Mental Health | Interview with Will Hutcherson
Making Unpopular Parenting Decisions | Interview with Amanda & Victor
Parenting Through Tragedy | Interview With Tyler Volkers
How Can I Help My Kid Become Generous & Compassionate? | Interview With Victor Vilar
Sexual and Gender Identities: Andrew Bunt and Preston Sprinkle
Does God Just Want Me To Be Happy? | Interview With Tyler Volkers
How Do I Make An Impact With My Life? Part 1 | Interview With Mark Weigt
How Do I Make An Impact With My Life? Part 2 | Interview With Mark Weigt