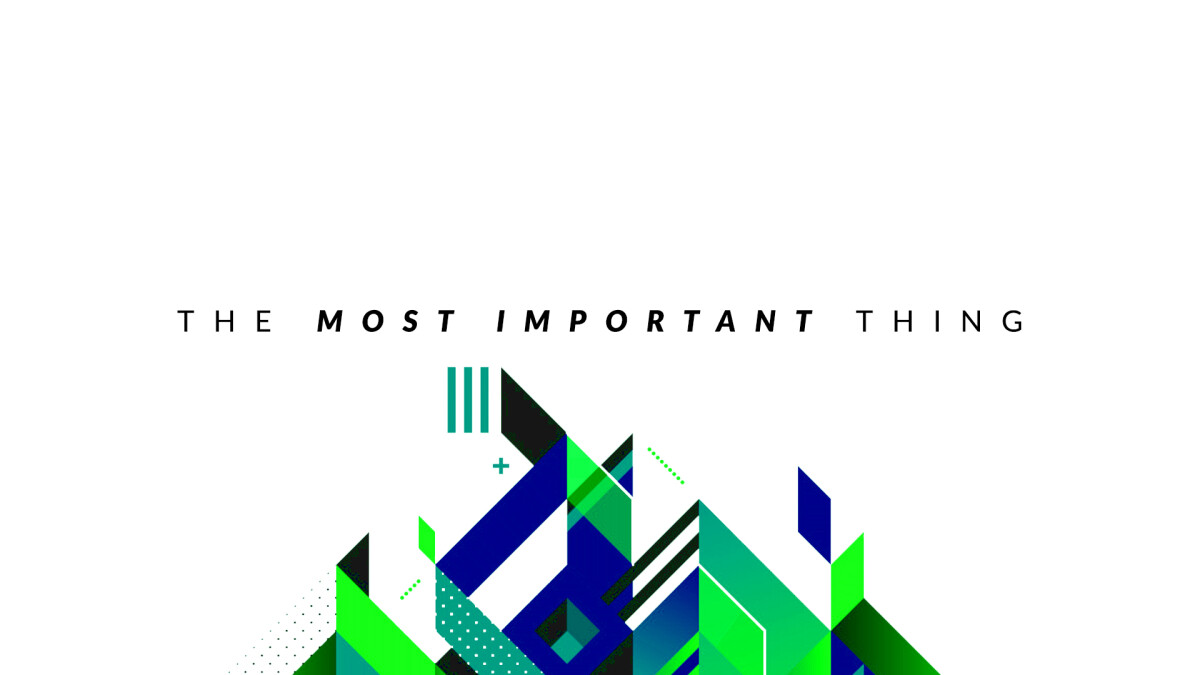 Most people acknowledge that the Bible is important to Christians. Most people also believe that it's an old and outdated religious text book, a life manual, or at the very least something long, boring, and has even been used negatively as a source of harm. So why is it important and why should you still read it?
In our next series "The Most Important Thing" we'll share how you can get the most out of what studies have shown time and time again is the most important thing for building your faith.

DID YOU MAKE A DECISION TO FOLLOW JESUS?
If you made a decision to follow Jesus, text the word Jesus to 414-509-0339.

The Ridge will text you a daily note of encouragement for 14 days.

Use this 14-day guide to help you continue on your faith journey.
Day 1 | Day 2 |Day 3 |Day 4 |Day 5 | Day 6 | Day 7 | Day 8 |
Day 9 |Day 10 | Day 11 |Day 12 | Day 13 | Day 14
FEATURED VIDEOS FROM THE RIDGE
Subscribe to The Ridge's social media to see videos posted multiple times each week during this series.
READING PLANS
How to Study the Bible (5 Days) – Reading the Bible offers more life change than any other spiritual discipline. In this plan, we will learn how and why we should study the Bible.
How to Study the Bible (5 Days) – It's easy to feel overwhelmed, ill-equipped, and just plain lost when it comes to the Bible. My aim is to simplify the process of Bible Study for you in a few ways by teaching three of the most important principles of successful Bible Study. Read this plan to discover how to read the bible not just for information, but for life transformation.
APPS
YouVersion Bible App - Read the verse of the day, listen to audio Bibles, create prayers, read a plan with friends, and connect with The Ridge Community Church.
Blue Letter Bible - A Bible study tool including dictionaries, encyclopedias, commentaries, and a Hebrew & Greek lexicon.
BibleProject App - We're building a journey through the story of Scripture where you'll learn how to read the Bible as you read it. Go beyond chapters and verses to experience sections of the Bible intended to be understood together. You're able to watch and listen to our entire library of videos and podcasts in one place, at any time.
BOOKS
Core 52: A Fifteen-Minute Daily Guide to Build Your Bible IQ In a Year by Mike E. Moore – Most of us want to know the Bible better, but few reach our goal, often because we're too busy or we don't know where to start. Core 52 removes both barriers, offering a common-sense solution that fits into our busy lives. Each week features a brief essay, memory verse, Bible story, trajectory verses, and practical ways to put what you've learned into practice.
Self-Guided Tour of the Bible by Christopher D. Hudson – This easy-to-read full color handbook gives you a big-picture view of the Bible. Discover Bible history and culture, people and characters in the Bible, major themes of every book, seeing Jesus in the Old Testament, and applying biblical truths to today's world.
How to Study The Bible by Robert M. West – This guide provides a brief, concise overview of personal Bible study for the every day person.
PODCASTS
How (Not) to Read the Bible Bible Project: Featuring Dan Kimball – What do we do with the passages that are really difficult? Violence, slavery, the treatment of women – what the bible has to say about these topics has, at times, been misinterpreted and misused.
What's in Your Bible? Bible Project Podcast – In this episode, Tim and Jon give an overview of the entire Bible with a focus on the Hebrew Scriptures.
Is the Bible Reliable? Explore God - The Bible is the best-selling book in history. It's also one of the most questioned books of all time. If people question its reliability, how can someone put their trust in the Bible?
VIDEOS
Bible Project Series: How to Read the Bible - a collection of short, animated videos that introduce the Bible and share how to read it.
ARTICLES
Bible Reading Resources S.O.A.P. Method - S.O.A.P. is a Bible study method for individuals or groups. It doesn't require a theology degree. This method is simple and very easy to reproduce.
How to Study the Bible by Matt Smethurst - Studying the Bible takes work, but the payoff is priceless. The Bible is a bottomless treasure chest of wisdom, beauty, power, and truth. The ultimate reason we endeavor to comprehend the Word of the Lord is that we might know and please the Lord.
How to Read the Bible in 3 Steps by Norton Herbst, PhD – Perhaps many of us don't currently read the Bible because life is already busy enough, because other things are more important, because we just don't need to right now. Then again, many people do try to read the Bible, but they struggle after just a few pages.
BOOKS FOR KIDS AND STUDENTS
The Bible Made Easy - For Kids by Dave Strehler – Conversational in tone, the writing is clear and simple. Contents are jam-packed with line drawings that beg to be colored, charts that help explain facts and concepts, questions that provide thoughtful reflection and prompts that generate rousing discussions. Key Biblical topics like faith and salvation are explained in kid-friendly, age-appropriate terms.
Core 52 Student Edition: A Fifteen-Minute Daily Guide to Build Your Bible IQ In a Year by Mark E. Moore – You know that the Bible is important. So why is it so hard to get into it or get something out of it? The problem isn't you or the Bible. The problem is the strategy. Rather than diving in yourself, what if you had a coach to lead you through a simple process that would build your confidence?