***Ridge Middle School is currently on Summer Break. CLICK HERE or scroll down for our summer events schedule.***

Mondays | 6:30 - 8p
Greenfield Campus Student Space
* Drop off & pick up at the side door of The Ridge facing Walmart

No matter what a student likes, who their friends are, or what they think of God, they fit at Ridge Middle School. 6th through 8th graders will have fun and connect with other students through high-energy games, learn from engaging speakers, and meet small group leaders who are committed to hearing their story, caring for, and valuing them. Ridge Middle School isn't just an event a students attends, but a community where they belong, they matter, and are encouraged and equipped to experience the hope of Jesus for themselves.

CURRENT SERIES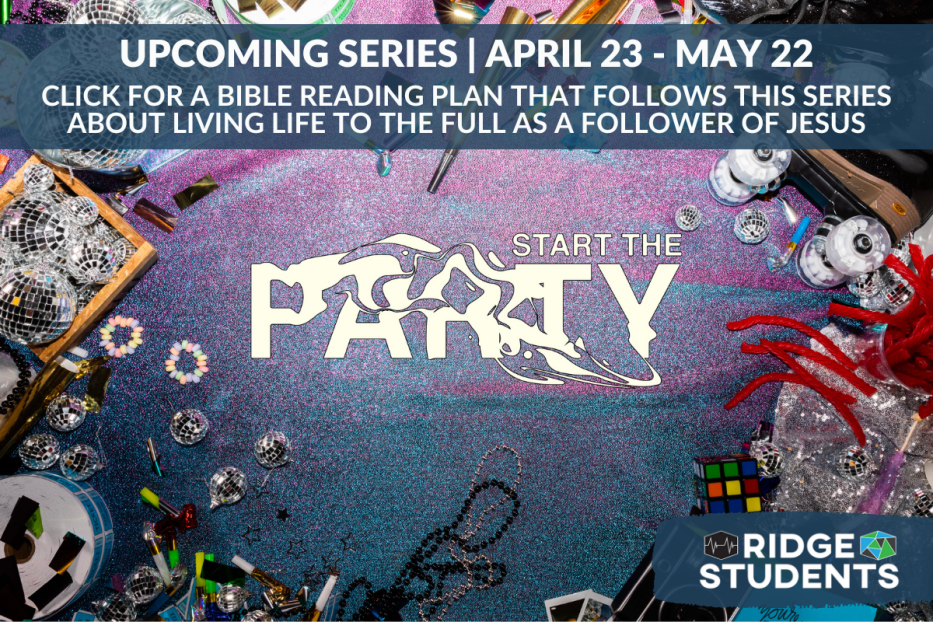 START THE PARTY – You Have What It Takes To Be A Party Starter
What makes some people seem so full of life and others seem so empty? Put simply, some people know how to start the party better than others - the kind of party that interrupts your routine, helps you celebrate the value of others, and adds a better perspective to your life. Our faith is meant to be fun and our lives loaded with joy. Our mission is to make way for other people to get the most out of every day by knowing the hope of Jesus. Over the last few weeks of the school year, students will be challenged to see ordinary moments as extraordinary opportunities to bring more life, more joy, more hope, and more energy to their own lives and the world around them.
EVENTS






Mental health challenges continue to reach epidemic levels in the next generation. Last month, we hosted a special digital with Will Hutcherson - a national speaker, the founder of Curate Hope, and a Next Gen/Youth Pastor of 15 years. He is the co-author of the book Seen: Healing Despair and Anxiety in Kids and Teens Through the Power of Connection. In this event, we learned practical ways to help the kids and students you know have better mental health and answered questions that parents and caring adults submitted.
Click the graphic above to check out this event on demand.