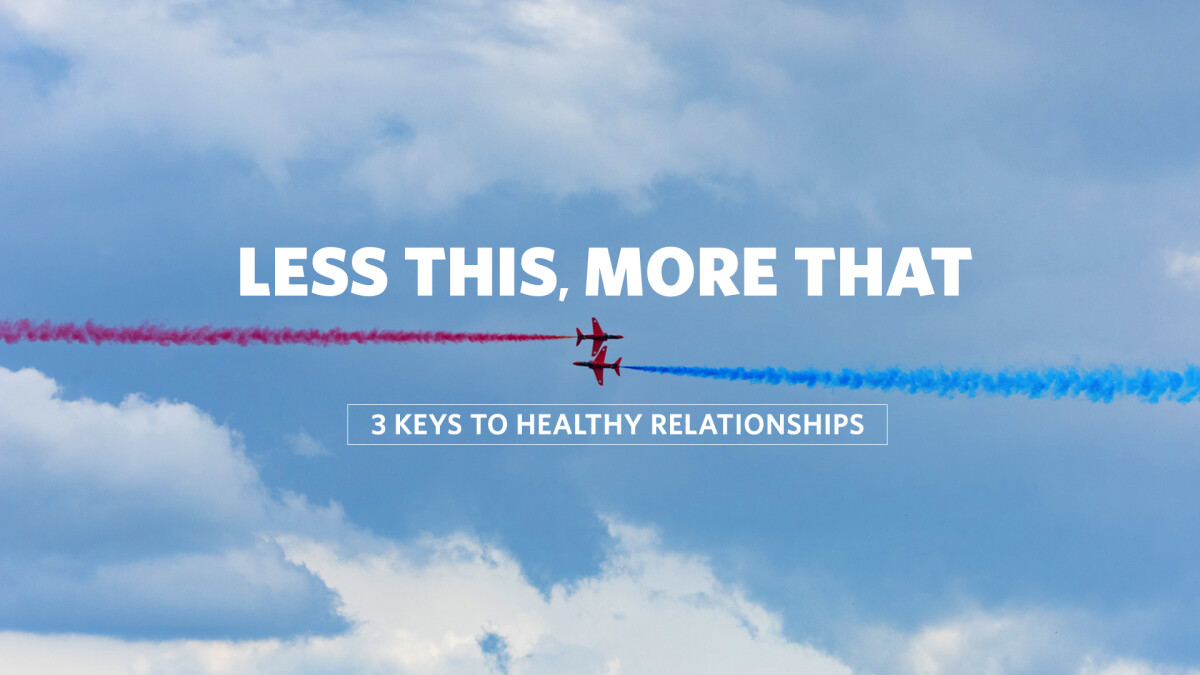 Our marriages, friendships, family ties, and interactions with coworkers and even strangers have taken a toll from the strain of the last year and a half. The relationships you form are important to your emotional and mental wellbeing, but there are habits we are all guilty of that cause friction.

In this series, we take a closer look at three specific counterintuitive approaches that will repair and redesign the way you approach the different relationships in your life.


GET STARTED IN READING THE BIBLE
How Do I Get Started Reading the Bible
How can you get started reading the Bible? Here are a few helpful tips!
READING PLANS
How to Love People You Disagree with (5 Days)
With eight billion people living in the world, there's no one who will completely agree with you on everything. Our viewpoint on social injustices, politics, current events, and religion is uniquely ours. But even in our differences, we can and should find common ground. In this 5-day Plan, you'll learn how to love, respect, and empathize with people by speaking truth with grace and gentleness.
RESOURCES FOR MARRIED COUPLES
BOOK
The Seven Principles for Making Marriage Work: A Practical Guide From the Country's Foremost Relationship Expert
By John Gottman and Nan Silver
Straightforward yet profound, these principles teach partners new approaches for resolving conflicts, creating new common ground, and achieving greater levels of intimacy. Gottman offers strategies and resources to help couples collaborate more effectively to resolve any problem, whether dealing with issues related to sex, money, religion, work, family, or anything else.
Packed with new exercises and the latest research out of the esteemed Gottman Institute, this revised edition of The Seven Principles for Making Marriage Work is the definitive guide for anyone who wants their relationship to attain its highest potential.
ARTICLES
Reconnect Through Meaningful Conversation
It takes intentionality to overcome the tendency for talk with your spouse to morph from meaningful to administrative. Deep, meaningful conversation is a must for couples hoping to stay connected.
Four Types of Communication to Strengthen Your Marriage
The key to a great marriage is communication. What kind of communication? Dr. Greg Smalley recommends couples have four key marriage conversations.
PODCAST
Doing Life In The Same Boat
If we're honest, we all have annoying habits. In marriage, it's very common for those same habits to get on our spouse's nerves. John and the Smalleys share things they've learned from their own journeys and how you can work through disagreements with your spouse.
READING PLAN
Choosing Marriage: 7 Choices for Healthy Relationships (7 Days)
Choosing marriage is one of the most significant decisions you'll ever make. But many times, the expectations of marriage and the reality of marriage are completely different things. No matter your relationship status—single, engaged, or married— join licensed professional counselor and author Debra Fileta in this series of devotions that will open your eyes to the seven choices you can make today to create a better marriage for tomorrow.
RESOURCES FOR SINGLES
BOOK
The New Rules of Love, Sex & Dating
By Andy Stanley
In The New Rules for Love, Sex, and Dating, pastor and bestselling author Andy Stanley explores the challenges, assumptions, and land mines associated with dating in the twenty-first century. Not for the faint of heart, this practical and uncensored guide takes a fresh approach to dating and love in the modern era by turning the search for "the one" or "Mr./Mrs. Right" back onto the searcher themselves, challenging you to ask yourself tough questions.
ARTICLE
Eight Prayers for the Online Dating Journey
When single folks—who on many days would prefer to be partnered—talk to God, our prayer life can sometimes sound a bit demanding. When we're feeling frustrated that dating apps are drying up or that the pandemic isn't helping our marital prospects, we can get a little bossy with the Almighty.
VLOG
Loving Others Well
Understanding what it means to love others well starting with your closest relationships and moving outward and learning where justice and compassion needs must intersect with your spiritual gifts to change the world.
Singleness is not Plan B. Singleness is God's gift to every single Christian.
RESOURCES FOR PARENTS
BOOK
How to Talk So Teens Will Listen and Listen So Teens Will Talk
By Adele Faber and Elaine Mazlish
Filled with straightforward advice and written in their trademark, down-to-earth style sure to appeal to both parents and teens, this all-new volume offers both innovative, easy-to-implement suggestions and proven techniques to build the foundation for lasting relationships. From curfews and cliques to sex and drugs, it gives parents the tools to help their children safely navigate the often stormy years of adolescence.
ARTICLES
How to Have a Healthy Disagreement with Your Child
As your children grow out of infancy and further into childhood, disagreements will become a normal part of life. When you're a parent, of course, this can grow quite exhausting! You may find that the older they get, the more things there are to disagree about.
Helping Your Child Through Their First Broken Heart
Breakups are painful at any age, but there is something about the first breakup in the teenage years that is just extra-excruciating—and it isn't just painful for the teenager! As an adult, sitting with a teenager who is feeling the sting of a recent breakup can feel so helpless. What should you say? What should you not say?
PODCASTS
Helping Pre-Teens Understand Their Emotions
It's normal for pre-teens to start experiencing more intense feelings or for their self-confidence to take a nosedive. John and Danny discuss how to help your teen navigate mood swings and emotional changes.
Simple, Effective Behavior Interventions
John and Danny discuss a simple method of enforcing the rules that doesn't require repeating yourself. Featuring guests Michael Anderson and Dr. Timothy Johanson.
Setting Healthy Boundaries with Your Kids (Part 1 of 2)
Psychologists Henry Cloud and John Townsend discuss the importance of parents defining appropriate boundaries and sticking with consequences in order to help kids learn to lead balanced, productive, and fulfilling adult lives.
READING PLAN
Intentional Parenting: 10 Principles to Navigate Beyond Survival Mode & Quick Fixes (5 Days)
We're in a battle for the souls of our children. But this is a fight we can win with intentional parenting. By embracing God's wisdom and guidance, we as parents, grandparents, or guardians can instill the values and qualities we want our children to have. Explore six solid, basic principles found in God's Word and successfully shape your children's lives.
RESOURCES FOR KIDS & STUDENTS
Book
The 7 Habits of Highly Effective Teens
By Sean Covey
Imagine you had a roadmap—a step-by-step guide to help you get from where you are now, to where you want to be in the future. Your goals, your dreams, your plans…they're all within reach. You just need the tools to help you get there.

That's what Sean Covey's landmark book, The 7 Habits of Highly Effective Teens, has been to millions of teens: a handbook to self-esteem and success. Now updated for the digital age, this classic book applies the timeless principles of 7 Habits to the tough issues and life-changing decisions teens face. Covey provides a simple approach to help teens improve self-image, build friendships, resist peer pressure, achieve their goals, and appreciate their parents, as well as tackle the new challenges of our time, like cyberbullying and social media. In addition, this book is stuffed with cartoons, clever ideas, great quotes, and incredible stories about real teens from all over the world.
PODCASTS
Discovering Your Child's Love Language
New York Times best-selling author, Dr. Gary Chapman, joins host, Carlos Whittaker, to talk about how to discover the five ways your children interpret love based on insights from his popular book, The 5 Love Languages: The Secret to Love that Lasts.
Navigating Friendships in Middle School and Beyond
The saying goes, "If you want a good friend, be a good friend." John and Danny offer practical advice to help teens become contributors in relationships. Featuring guest Jessie Minassian.
READING PLAN
The 10 Myths of Teen Dating (7 Days)
Through the latest scientific research and poignant, personal stories, a father / daughter team help parents and their teenage girls navigate the traps and temptations of the teen dating years.
RESOURCES FOR ANYONE
Books
Safe People: How to Find Relationships that are Good for You and Avoid Those That Aren't
By Henry Cloud and John Townsend
Too many of us have invested ourselves into relationships where things have gone wrong. You may have experienced being judged, manipulated controlled, or worse. The impact of being with an unsafe person can be damaging to your confidence, your trust in others, and even your health. And what's more, we either repeat the same mistakes of judgment over and over, or else simply give up on trying to have great, authentic relationships again.
Nonviolent Communication: A Language of Life
By Marshall Rosenberg
Nonviolent Communication is a communication and conflict-resolution process developed by the psychologist Marshall Rosenberg. The book focuses on how to express ourselves in a way that inspires empathy in others, and how to listen to them empathically in turn.
ARTICLE
Coping with Critical Workers
If you're feeling a bit like Rodney Dangerfield ("I don't get no respect"), you are not alone. From time to time we all have to deal with overly-critical co-workers, clients, supervisors and other "nay-sayers" in the workplace.
PODCAST
Brene Brown - The Courage to Be Vulnerable
Courage is borne out of vulnerability, not strength. This finding of Brene Brown's courage is borne out of vulnerability, not strengthen. This finding of Brene Brown's research on shame and "wholeheartedness".
READING PLANS
Awesome: Building Great Relationships
One of the great tasks of life is building awesome relationships. God wants us to learn how to love, and the only way we can do that is when we're sharing life with other people.
6 Hidden Behaviors That Destroy Families
There's no such thing as a perfect family. We all make mistakes that hurt our family members and we've all been hurt by those we love. Dr. Magdalena Battles addresses top conflicts that cause relationships to become strained or broken: a failure to forgive or apologize, criticism, gossip, deception, a lack of inclusion, and a failure to accept differences. Here are practical biblical strategies for healthier and more loving relationships.
CONNECT IN COMMUNITY
Interested in connecting with a Ridge Group that is discussing Less This, More That together? Use this link and we can help you get connected to one.
ROOTED
Connect with God, connect with the church, and connect with your purpose in life-changing ways! Dates, times and details of our next Rooted group can be found here.
COUNSELING SERVICES
Christian Life Counseling
E. 12630 North Ave Brookfield WI 53005 | 262-785-1008
Tanya Gerhard | Parenting, Marriage, and Friendships
Sarah Fesser | Improving Communication, Repairing Relational Hurts, and Parenting
Mike Schachtner | Children and Couples


New Life Resources
20700 Watertown Rd. #102, Waukesha, WI 53186 | 262-782-1474
Kristin Damato | Forgiveness & Reconciliations, Boundaries
Deborah Fisher |Couples Counseling, Forgiveness, Grief/Loss
Lynsey Steiner |Children, Adolescents, & Adults, Family Conflict, Healthy Sexuality
Terry Young | Child/Adolescents


12970 Bluemound Rd #200., Elm Grove, WI 53122 | 262-780-1022
Judy Bertoni | Children, Adolescents, School Challenges