Oak Creek Service Time Change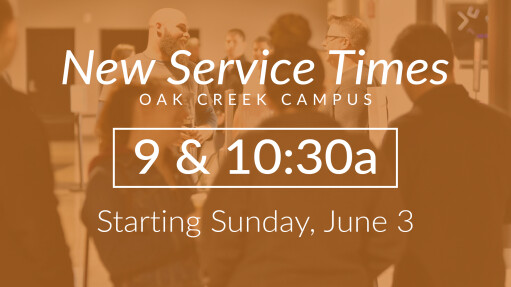 We now have seven full months under our belts as The Ridge Community Church - Oak Creek Campus. Time has certainly flown by, and we've learned a lot!
We've been busy meeting and listening to you. We take your feedback seriously because this is your campus and we always want you to feel as if it's meeting the needs of our community.
That's why beginning Sunday, June 3, we will be changing our service times to 9:00 & 10:30a.
We are doing this for several reasons:
To accommodate the schedules of our young families
To make it easier to invite people to service with you
To be a church that reflects the needs of its attenders
Leading up to this change, we've got two big events happening:
Summer Kick-off – We're kicking off summer with a bang on Thursday, May 24 at 7p. This 'Ridge Family Party' will include a cookout, fun stuff for kids and LOTS of music. We're going to celebrate all God has done in our church this year and hear where we're going this summer. *Note: Services will be canceled Sunday, May 27 to allow everyone to invest in the lives of people around them.
NO SERVICES

-

There will be no services

at any of The Ridge's campuses on Sunday, May 27. Please use this time to invest in the lives of those around you!