Grouplink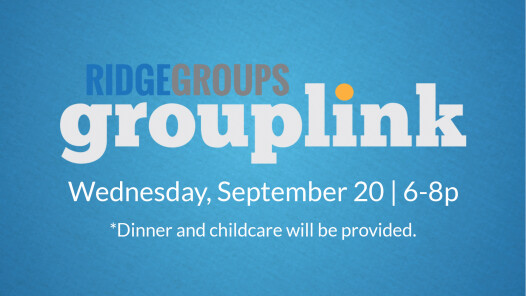 Grouplink
Wednesday, September 20 | 6-8p
*Dinner and Childcare provided.
We think life is better together. One of the best ways we can do life together is by joining a Ridge Group. These are small gatherings of people that meet in homes or at The Ridge once a week. We talk about the messages we hear at service, life in general, and some groups even cover specific topics that relate to a season of life.
GroupLink is your chance to test drive a bunch of groups all at once and find one that feels right.
Just show up, we'll take care of the rest.
What: Grouplink
When: Wednesday, September 20 | 6-8p
Where: The Ridge
Who: You and a friend.
*Dinner and childcare will be provided.
Fall Groups Line-up:

Anyone Welcome - Learning from people in all life stages.
Young Adult - People in their 20's.
Young Couples - Couples in their 20's or 30's.
Women's Groups - Women only. Can be married or single.
Men's Groups - Men only. Can be married or single.
Oak Creek Area Groups – If you live in Oak Creek or the surrounding area.
Day-time Group – People working 2nd/3rd shift.
Financial Peace University – People looking to gain control of their finances.
Griefshare – People looking for support after a loss.
Rooted - People who want to learn what it means to look, love and live like Jesus.
Can't make Grouplink but still want to connect in a circle? CLICK HERE
Questions about Grouplink? Email us: