Running With Giants Resources

---
Ridge Staff Q&A
When have you protested what God wanted you to do? What did you learn? (Exodus 4:1-12)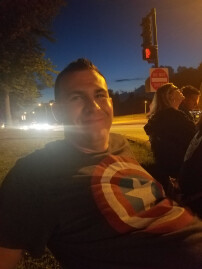 "I can really relate to exodus 4 verses 10 - 12. Growing up I was afraid to speak for multiple reasons, such as my accent. I'm very soft spoken and I was never able to share my thoughts with my family. As a result, I wouldn't speak in school, and I eventually dropped out . I didn't think I would ever be anything more then a machinist or welder. I didn't think I needed speaking skills. And up until now, this is true.
Through a recovery group, people told me that the only way you can have sobriety is to not say "no" to a request. This started me on my journey to speak. I shared my story with 150 people - trust me, I was scared. I hoped I would pass out or something, but none of that happened. I'm forever grateful for that opportunity. I believe God works through people and I have the right people in my life now who challenge me to be better every day. I also pray daily for his will for me, how I can help others, and to live out of love and not fear."
Curt Clemetson, Tech Team Leader
---
WEEKLY DEVOTIONAL
WEEK 1
DAY 1 | DAY 2 | DAY 3 | DAY 4 | DAY 5
WEEK 2
DAY 1 | DAY 2 | DAY 3 | DAY 4 | DAY 5
WEEK 3
DAY 1 | DAY 2 | DAY 3 | DAY 4 | DAY 5
WEEK 4
DAY 1 | DAY 2 | DAY 3 | DAY 4 | DAY 5
WEEK 5
DAY 1 | DAY 2 | DAY 3 | DAY 4 | DAY 5
WEEK 6
DAY 1 | DAY 2 | DAY 3 | DAY 4 | DAY 5
WEEK 7
DAY 1 | DAY 2 | DAY 3 | DAY 4 | DAY 5
READING PLANS

Unsinkable Faith (4 Days)
When life is hard and negative thoughts creep in, you can feel like you're sinking under the weight. Unsinkable Faith helps you embrace God's truth and provides practical tools to help you transform the way you think, feel, and live regardless of your circumstances.
Chase The Lion (7 Days)
Our greatest regrets at the end of our lives will be the opportunities we left on the table, the passions we didn't pursue, and the dreams we didn't go after. Spend seven of your daily devotional times discovering your God-sized dream and finding the courage to chase it.
Take Courage (14 Days)
In Take Courage: Winning the War on Fear, author Greg Atkinson shares Scriptures that have encouraged and strengthened him over the past three decades of facing fear and anxiety. Greg knows the struggle of battling fear daily, but finds great comfort in God's Word and you can, too.

BOOKS

Fight By Craig Groeschel
Author and pastor Craig Groeschel helps you uncover who you really are―a man created in the image of God with a warrior's heart―and how to fight the good fight for what's right. You will find the strength to fight the battles you know you need to fight―the ones that determine the state of your heart, the quality of your marriage, and the spiritual health of your family.
Craig will also look at examples from the Bible, including our good buddy Samson. You may be surprised how much we have in common with this guy. By looking at his life, you'll learn how to defeat the demons that make strong men weak. You'll become who God made you to be.
Available in our Next Steps room for $10


Life's Healing Choices By John Baker
We've all been hurt by other people, we've hurt ourselves, and we've hurt others. And as a result, every single one of us ends up with some sort of hurt, hang-up, or habit. But the question we all face is, Where do we go from here?

Life's Healing Choices offers freedom from our hurts, hang-ups, and habits through eight healing choices that promise true happiness and life transformation. Each chapter includes two real-life stories of men and women whose lives have been transformed by living out the eight choices in this book. You'll find real answers, real hope, and a real future -- one healing choice at a time.
Available in the Next Steps room for $10

ARTICLES

Choose Faith Over Fear
Rick Warren talks about how common our fear of rejection can be, but how God can make the difference.
Does Life Have a Purpose?
Is there any meaning in life? Is there any purpose that outlasts death?
What Drives Your Life?
Everyone's life is driven by something.

VIDEOS

How Does Knowing God Help Us?
Michael Frost asserts that human brokenness can be traced to fear and/or laziness. How do we move forward and can God help us?
Our Identity in Christ
Do you live in hear of being judged by others? Brandon Hatmaker discusses finding his identity in Christ and learning more about unconditional love through fatherhood.