---
Ridge Staff Q&A
With the trials in your life, what would it look like for you to, "accept the injustice and leave it at that?" (1 Corinthians 6:7-11)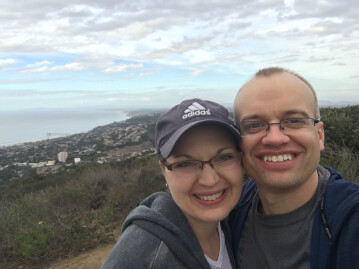 "That is a tough question given some of my core beliefs. God does not call us to accept injustice, he calls us into a state of higher living standards. We are to be selfless like in Matthew 5:40, we give the coat off our back. He calls us to take care of others, not to show partiality, God hates dishonest scales (dishonesty).

He has shown you, O mortal, what is good. And what does the Lord require of you?
To act justly and to love mercy and to walk humbly with your God.
Micah 6:8

To accept injustice would be for me to live in sin. I would likely lose my job, home, friends and my life would fall outside of the blessings of God and I live in a state of chaos swayed to and fro without bearing. I cannot see a future for myself if I stand for nothing and fall for everything. Isaiah 7:9 ...'If you do not stand firm in your faith, you will not stand at all.' An Edmund Burke quote also comes to mind, 'The only thing necessary for the triumph of evil is for good men to do nothing.'"
Micah Eldridge, Online Campus Team
---
weekly devotional
WEEK 1
DAY 1 | DAY 2 | DAY 3 | DAY 4 | DAY 5

Week 2
DAY 1 | DAY 2 | DAY 3 | DAY 4 | DAY 5
Week 3
DAY 1 | DAY 2 | DAY 3 | DAY 4 | DAY 5

Week 4
DAY 1 | DAY 2 | DAY 3 | DAY 4 | DAY 5
READING PLANS

How To Make The Right Decision (3 Days)
We often face ethical dilemmas in our work. How can we use the Bible to make the right decisions? Each day of this plan provides a real-life case study on a tough decision, plus biblical decision-making principles that you can take to work.

Making Decisions (5 Days)
What should we do when the Bible doesn't seem to speak directly to the situations and decisions we face each day? The following reading plan will help you to make decisions that glorify God and honor others.

Decisions (7 Days)
Coming to major crossroads in life can be an intimidating and nerve-wracking experience. Follow God's Word and he promises your paths will be made straight.

Wisdom (12 Days)
Scripture challenges us to seek wisdom above all things. In this plan, you'll explore several verses each day that speak directly to wisdom—what it is, why it's important, and how to develop it.


BOOKS

Life's Healing Choices
LIFE HAPPENS. Happiness and Healing are yours for the choosing.

We've all been hurt by other people, we've hurt ourselves, and we've hurt others. And as a result, every single one of us ends up with some sort of hurt, hang-up, or habit. But the question we all face is, where do we go from here?

Life's Healing Choices offers freedom from our hurts, hang-ups, and habits through eight healing choices that promise true happiness and life transformation. In addition to practical, encouraging biblical teaching, each chapter includes two real-life stories of men and women whose lives have been transformed by living out the eight choices in this book. Through making each of these choices, you too will find God's pathway to wholeness, growth, spiritual maturity, happiness, and healing. You'll find real answers, real hope, and a real future -- one healing choice at a time.
*Available in our Next Steps room for $10

Boundaries
Having clear boundaries is essential to a healthy, balanced lifestyle. A boundary is a personal property line that marks those things for which we are responsible. Boundaries impact all areas of our lives. Often, Christians focus so much on being loving and unselfish that they forget their own limits and limitations. When confronted with their lack of boundaries, they ask:

Can I set limits and still be a loving person?
What are legitimate boundaries?
What if someone is upset or hurt by my boundaries?
How do I answer someone who wants my time, love, energy, or money?
Aren't boundaries selfish?
Why do I feel guilty or afraid when I consider setting boundaries?

Dr. Henry Cloud and Dr. John Townsend offer biblically-based answers to these and other tough questions, showing us how to set healthy boundaries with our parents, spouses, children, friends, co-workers, and even ourselves.
*Available in our Next Steps room for $10

ARTICLES

How Can I Know God?
Most people want to know God but how can we know him? Explore the idea here.

How to Know God's Will
God's will. You've heard about it. But how do you know what God's will actually is?

Sovereignty and Free Will
Can God be sovereign and humans still have free will? Are our destinies simply set?

Videos

How Do You Find Purpose in Life?
Everyone's looking for it, but how do you find your purpose in life? Pete Priscoe examines our desire to find purpose in life.

Why Does God Allow Pain and Suffering?
Learn why pain and suffering is a basic part of the universe.

What Is the Reason for Suffering?
Former NFL player Leonce Crump discusses mankind's desire for free will and the consequences of pain and suffering that ultimately come with it.